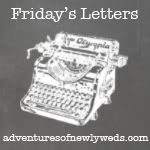 Dear God, Thank you for not giving up on me.
I know I have been in a constant struggle lately but I know you always have my back.
Dear Kelsey, Thank you for not leaving my side the last couple days while I've been sick. Now I know why they say dogs are mans best friends.
Dear iPhone, I don't know why there has to be this constant struggle between us. I'm really reconsidering this upgrade all the time.
Dear DMV, I have been there the last three days to renew my license.
Yes, the first time was my fault because I didn't know a gov't establishment was cash only..
But now you are working weird hours and today your system is down.
If I can't go out this weekend because of my license, we will fight.
Dear November, Take it easy on me.
Dear Molly, I'm glad you are going to be keeping my mom company,
but Kelsey and I aren't sure about another dog in the family.
I guess I'll tell her to be nice to you to though.
You are cute as a stinkin' button!!
Dear Weekend, I am so glad you are here!!
I'm just hoping I will feel like playing!!!
Dear Readers, Thank you!! :) YOU rock!!